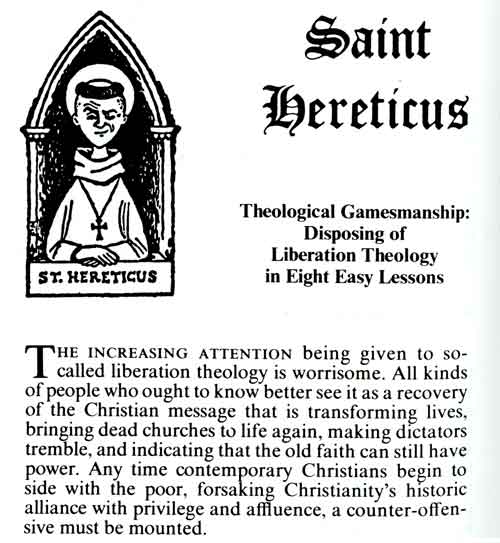 See full article from Christianity and Crisis, August 21, 1978, 200-202. Drawing by June Goldborough.
St. Hereticus
I see theology as a venture doomed to perpetual but creative frustration, since the test of theology's integrity must be its stubborn unwillingness to confuse its own utterances with the one about whom it is speaking...(My most important theological contribution is surely The Collected Writings of St. Hereticus, an attempt to lampoon the whole venture from within--a book long since remaindered as if in gentle vindication of the fact that attempts to show the transitory nature of theology are themselves transitory.)

"Discoveries and Dangers (Article IV in Series: "How My Mind Has Changed)," The Christian Century, Vol LXXXVII (2), January 14, 1970, 40.
Two volumes of these articles were published:
The collect'd writings of St. Hereticus, including manuscripts that have not previously appear'd in print; to which are annex'd two appendixes on theological gamesmanship & one on researchmanship. Philadelphia: Westminster Press, 1964
The Hereticus papers: (being Volume II of "The collect'd writings of St. Hereticus"). Philadelphia: Westminster Press, 1979.